Central Block, Ground Floor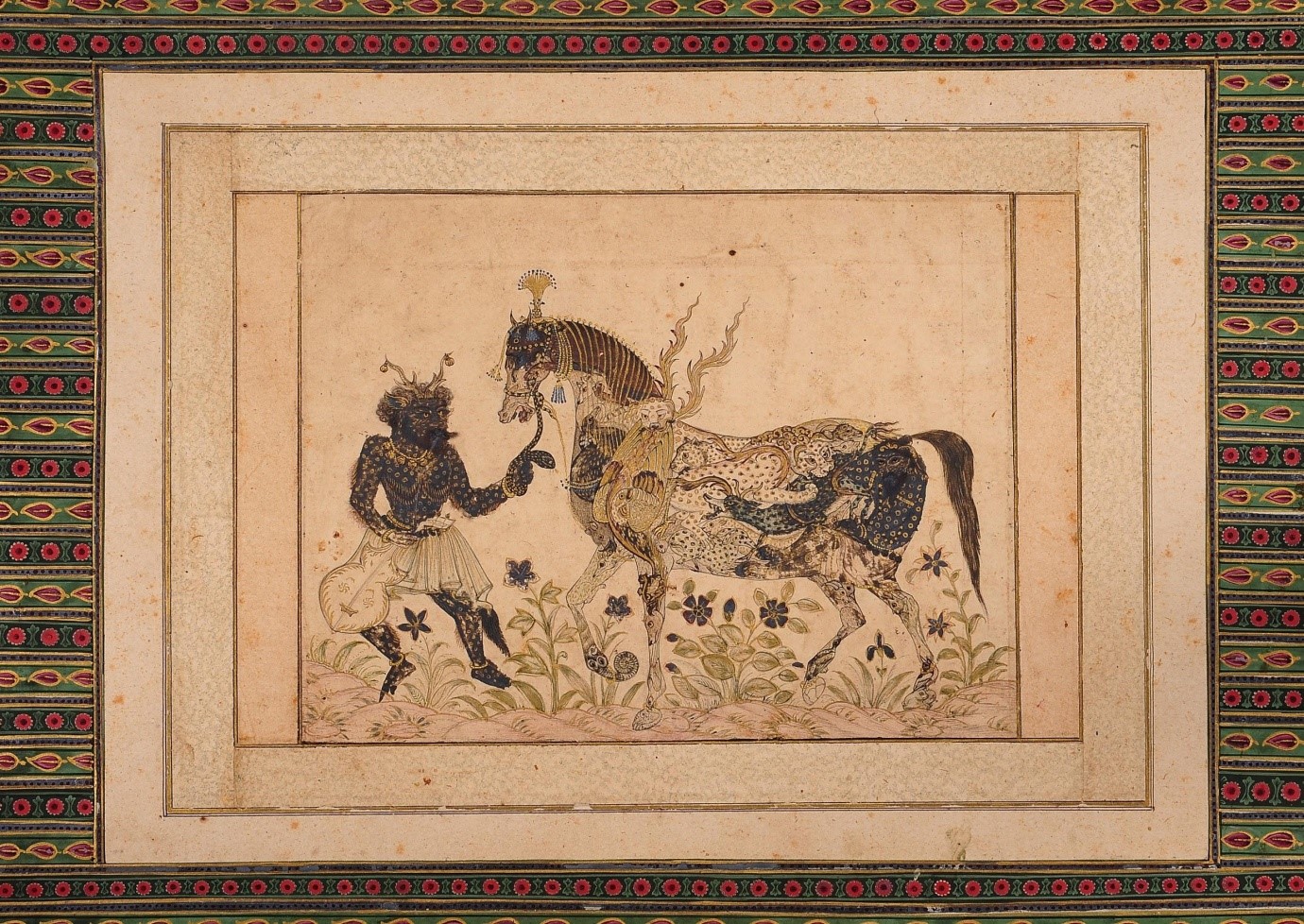 Composite horse, Bijapur, mid-18th century.
Indian Miniature Paintings
The study of Miniature painting in India is quite fascinating. Prior to the invention of paper in India, roughly in the 14th century AD, painting was practiced on cloth, wooden boards and palm leaves, apart from the earlier tradition of wall painting. Many illustrated manuscripts of Kalpasutra and Kalakacharya Katha and other Jain subjects have come down to the museum which belong to the Gujarat School of painting of 15th and 16th century.
The Salar Jung museum possesses few interesting leaves of early Jaina Kalpasutras which bear illustrations in early style of Western Indian painting; these paintings are characterized by the limited landscape, basic colour usage, angular draughtsmanship and the projecting eyes in the paintings. The subject matter invariably relates to anecdotes from Jain mythology. A painted page from 'Bala Gopala Stuti' proves that even the works of Brahmanical cult were painted in the style of Jaina Kalpasutras.
The dawn of the 16th century witnessed considerable progress in the execution of Indian miniature. The main contribution of the Mughal school of paintings of Akbar's period was the illustration of the masterpieces of Indian and Persian literature. The art of Akbar's period synthesized the Persian elements with existing Indian traditions. The painting titled 'The birth of a prince' found in this collection captures the spirit of the significant event and reveals both Persian and Indian influences. The portrait of 'Raja Vikramaditya' is another excellent example of portrait drawing by Bichittara in the 16th century AD.
The Museum also has a rich collection of illustrated manuscripts and miniatures from the Deccan region. Among these manuscripts, 'Bhog Bal' datable to the 16th century from Bidar is one of the prized possessions of the museum. Notable and exquisite manuscripts from Golconda and Bijapur are also on view. A painting showing 'Jamshid Quli and Ibrahim Quli conversing' of the Golconda school is another prized possession of the museum.
The romantic land of Rajasthan contributed a great deal in the field of miniature painting. The Rajput school existed alongside the Mughal school, showing indigenous character. The Malwa painting on view show scenes from Ramayana, attributed to mid-17th century and scenes from Hindu mythology, belonging to late 17th century AD. A few illustrated pages of 'Bihari Satsai' of the Mewar school are also found in the collection. The museum is home to three paintings from a 'Ragamala' set done at Amber during the mid-18th century.
The museum has paintings from the Pahari region of Punjab. Paintings from the Basholi-Kangra region are found; a painting titled 'Janmashtami' shows Raja Sansar Chand (during whose reign the art of Pahari painting reached its zenith) along with his son and courtiers witnessing the festival is one of the best example of the Kangra region. Besides the portraits of 'Raja Prakash Chand' from Guler, 'Krishna playing Holi with Gopi's" from Bilaspur are also few artworks that the museum is proud of.