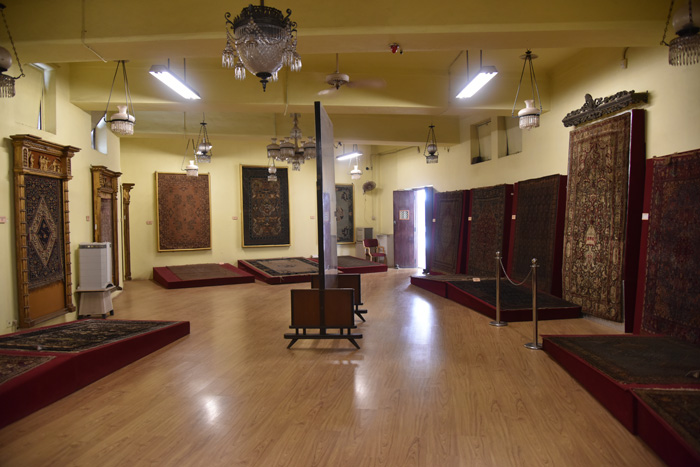 The collections of the Salar Jung Museum are the mirrors of the past human environment, ranging from 2nd century B.C to early 20th century A.D. The museum has a collection of over 46,000 Art Objects, over 8,000 Manuscripts and over 60,000 Printed Books that form the collection. This collection has been divided into Indian Art, Middle Eastern Art, Persian Art, Nepalese art, Japanese Art, Chinese Art and Western Art. Apart from this, a special gallery is devoted to the illustrious Salar Jung family, "The Founder's Gallery". The exhibits on display are divided into more than 38 galleries.
The Indian Art collection consists of Miniature paintings, Modern paintings, Bronzes, Textiles, Ivory, Jade, Bidri ware, Arms and Armour, Stone sculptures, Wood Carvings, Metal-ware, and manuscripts. This section also has ancient Andhra sculptures as well as Medieval period paintings. After Salar Jung Museum was declared as an 'Institution of National Importance' in 1961, an acquisition committee was formed, and several works of modern Indian artists were added to the original collection. Salar Jung Museum probably has the largest collection of 'Bidri ware' in the world.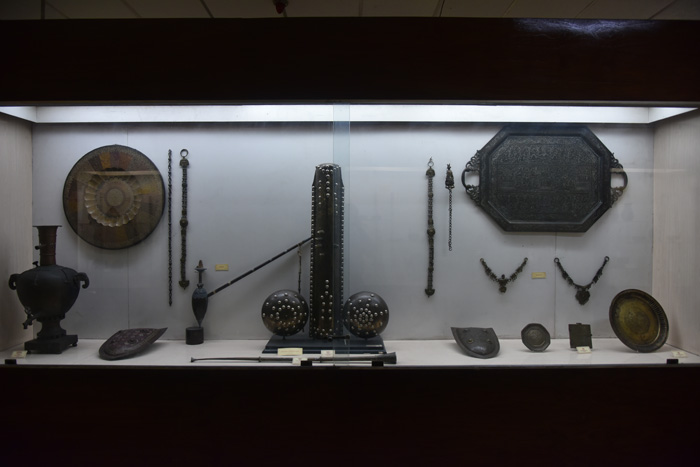 Middle East is represented through its art objects from Persia, Syria and Egypt covering a wide range of Carpets, Paper (manuscripts), Ceramics, Glass, Metal ware, Furniture, Lacquer etc. A range of figurative and narrative Persian carpets depicting stories of "Khusrau" is among the prized possessions of the museum.
The European collection comprises of art objects ranging from resplendent and excellent examples of Oil paintings, aesthetically attractive glass objects to majestic furniture, splendid examples of ivory, enamel ware and clocks. The most treasured masterpiece of the museum is the "Veiled Rebecca" a marble sculpture by G B. Benzoni bought by Salar Jung I when he visited Italy in 1876.
Salar Jung Museum is one of the few Indian museums which can boast of an extensive collection of Far Eastern Art consisting of Japanese and Chinese art objects of Porcelain, Bronze, Enamel, Lacquer-ware, Embroidery, Paintings, Wood and Inlay work.
The objects on display in the Children's section of the museum are a testimony to the vast range of interests and diverse nature of Salar Jung III, in collecting objects. The objects housed in the section provide informal education to the children apart from providing delight to them. A train from the early 20th century which runs a short distance is a major attraction in the gallery. In addition, the gallery has Porcelain, Metal, Jade objects and Toy armies.
The museum has a rich library of rare books and illuminated manuscripts of enormous value. There are autographed manuscripts with seal and signatures of Emperors like Akbar, Aurangzeb and Jahanara Begum (daughter of Shah Jahan). It is apparent from the library collection that Salar Jung III and his ancestors were great patrons of literature. The museum offers a window to visitors to understand the arts of India and gives Indians the opportunity to view different aspects of the art of other countries of the world.