Central Block, Ground Floor
Ivory Carvings
The Salar Jung museum has a vast collection of Ivory carvings from around the world. The collection gives a vivid account of the significant place of Ivory as a medium of art in the history of man's craftsmanship. Though the greater part of the collection belongs to the recent times, yet it gives us a clear account of the remarkable skill attained by the carvers and their urge to produce pieces of outstanding quality.
From the time of the Indus Valley civilization down to the 20th century, Ivory has been continuously used by the carvers of India as a medium to express their artistic talents due to its durability and delicacy.
The term 'Ivory' not only means the tusks of elephants but also the tusks and teeth of Walrus, Narwhal and Hippopotamus. The important centers for Ivory carvings in India are Delhi, Mysore, Kerala and Visakhapatnam. The subject matter of Ivory carving reflects to some extent the ideology of the people of that particular period.
In the collection of the museum, there are varied themes like figures - human, mythological, animals, chessmen, paper-cutters, furniture and paintings. One of the prized possession of this collection, which is appreciated by both scholars and laymen is the 'Ivory mat', whose warp and weft are of Ivory threads. The resultant effect though quite pleasing leaves one awestruck by the craftsman's skill. An interesting chair duo which originally belonged to Tipu Sultan, gifted to him by King Louis XVI of France is an important part of the collection.
The 'Chessmen' and 'Chausar' set of the collection form an interesting group. The chessmen set depicts the pawn as soldiers and the king and queen riding caparisoned elephants. These chessmen are painted and belong to the 18th and 19th century from North India.
The museum also has a collection of 'paper-cutters', its large size and intricate carving catches the eyes of the viewers. The handle represents a swathe elephant with three people seated inside, standing on a pedestal of admirable relief carving. The pierced design on the blade represents creeper border, floral and star like panels in the center. This piece dates itself back to the 19th century, Delhi.
Apart from the artefacts mentioned above the museum has a collection of procession scenes, delicately carved boxes, fly whisks, figures of animals and bedsteads. The museum also houses a miniature collection on Ivory - an art which attained great popularity in Delhi, the themes are mostly copied from famous Mughal, Rajasthani and Pahari miniatures.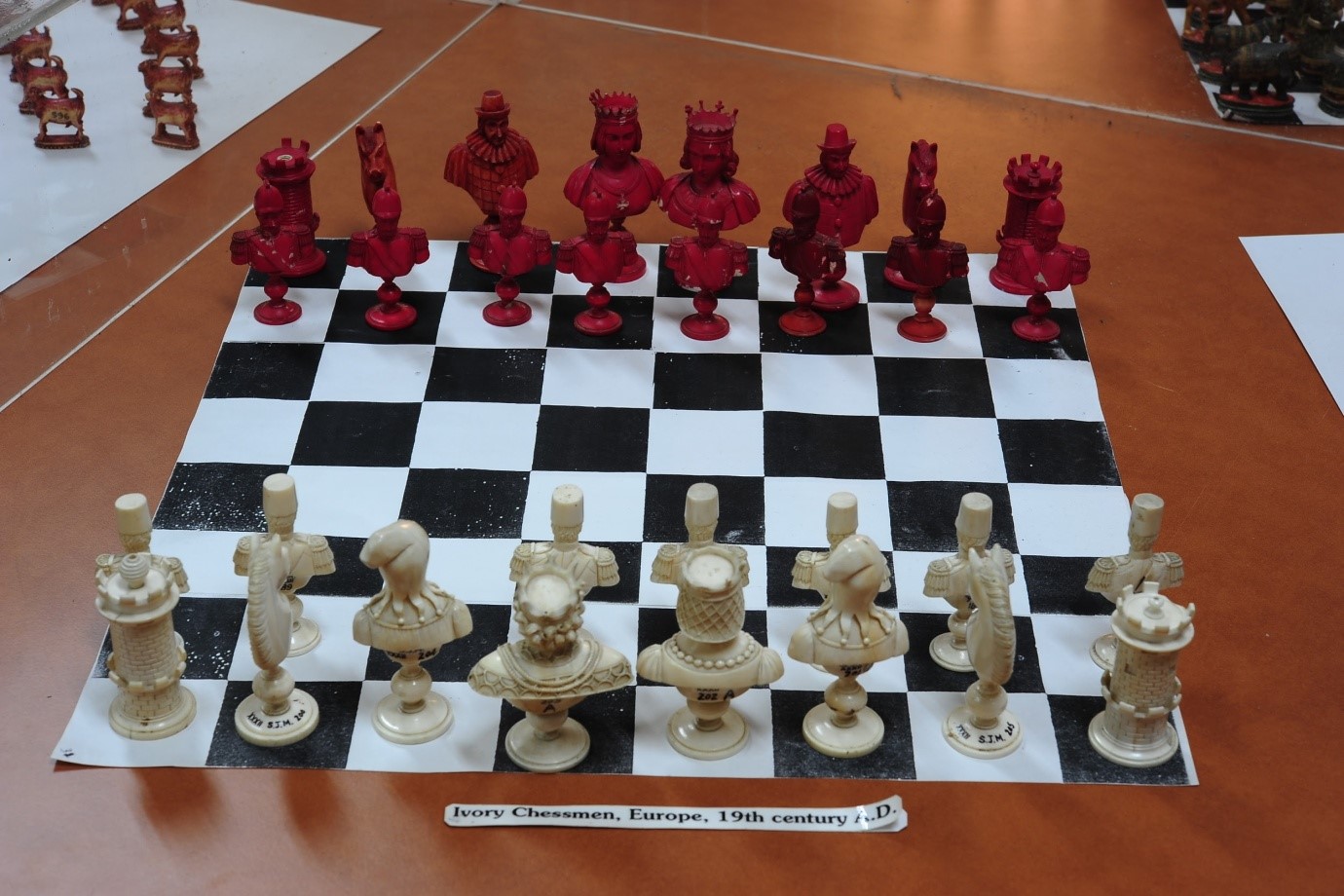 Ivory chessmen, 19th century, Europe.